BOB GOODRICH, CHIEF INFORMATION OFFICER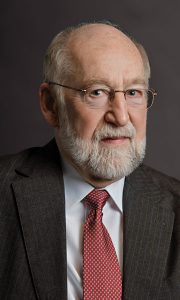 Bob Goodrich
Bob Goodrich is the applications programmer for A. V. POWELL & ASSOCIATES. Based in New Jersey, he directs the programming effort for enhancing the FORCAST software and is involved in all phases of software design.
Bob has over 20 years of programming experience and his expertise is also called upon for hardware selection and installation of the FORCAST software at client locations.
SIGNIFICANT ACCOMPLISHMENTS
Assisted in design and marketing of a computer-based, FDA listed, electrocardiogram device.
Designed and managed Windows conversion process and implementation of our DOS-based actuarial computer model known as FORCAST.
Developed procedures for 20 areas of quality assurance for corporate furniture manufacturer.
EXPERTISE
Actuarial software design and programming
Hardware selection and acquisition
Computer languages: APL, C, FORTRAN, COBOL, BASIC, and Revelation
EDUCATION
M.B.A. in Finance 1980
The Wharton School, University of Pennsylvania
B.S. in Engineering 1968
Cornell University